Shamin Hotels is proud to announce the opening of their new Sheraton Richmond Airport Hotel. It is the only full-service Sheraton in the Richmond market and the closest hotel to the Richmond International Airport located at the airport's entrance.
"We are elated with the result of our new Sheraton Richmond Airport hotel and proud to open this beautiful hotel as part of the Sheraton Hotels family and Shamin Hotels. Our premium location at the entrance to the Richmond International Airport is ready to serve travelers with a refreshing place to work, meet and play", said Julie Carlson, General Manager, Sheraton Richmond Airport Hotel.
Along with Julie Carlson, the management team is lead by Sunny Amin, Regional Director of Operations, Yumi Prasut, Director of Sales and Construction Project Manager Devang Thaker.
The Sheraton offers complimentary shuttle service to and from the airport and its location has easy access to the I-64, I-95 and I-295 corridors and only a few miles from downtown with its famous breweries, wineries and attractions. The Sheraton Richmond Airport hotel offers unique spacious guest rooms with the majority of rooms including separate seating and work station areas in addition to two room suites, all featuring Sheraton amenities. An entire top floor is dedicated to Club Level Members and the Sheraton Club, in which members enjoy complimentary continental breakfast as well as complimentary non-alcoholic beverages and snacks through the day and evening. In addition, the hotel offers an impressive 8,000 square feet of flexible meeting and banquet space which can accommodate up to 300 people as well as an executive boardroom fully equipped with state-of-the-art technology.
Guests can enjoy a beautiful outdoor pool with an enclosed patio and "flight deck" that will feature live events along with a cutting-edge fitness center. The hotel's Gate 55 restaurant and lobby bar welcomes guests with locally influenced cuisine and Richmond crafted brews along with a Starbucks Marketplace with grab and go items.
For more information visit the hotel website: Sheraton Richmond Airport Hotel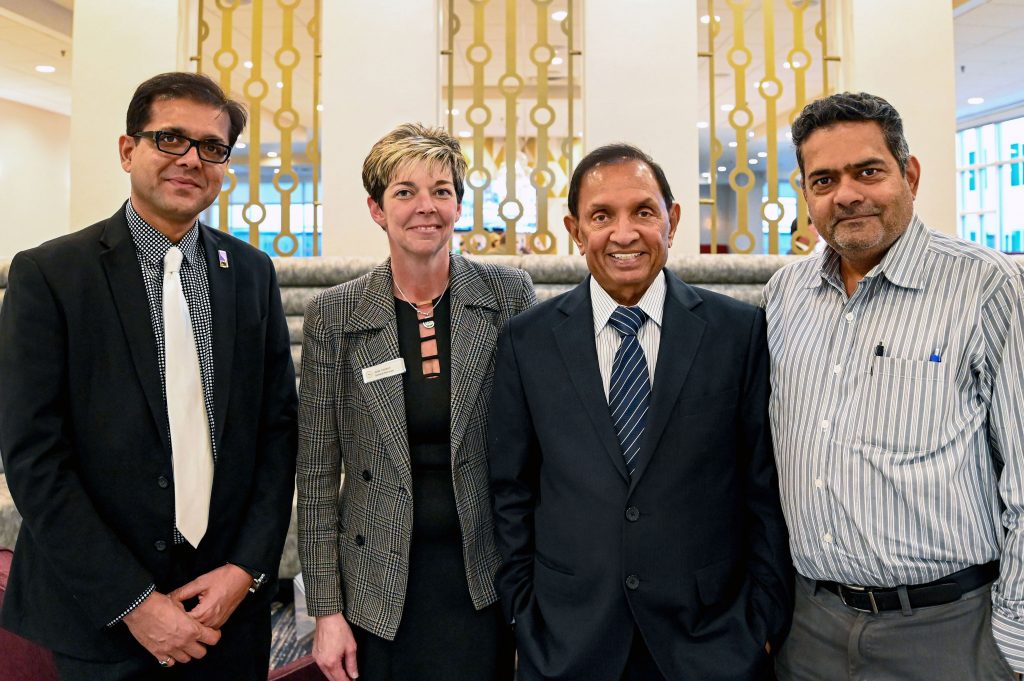 Pictured: Shamin Hotels Regional Manager Sunny Amin, General Manager Julie Carlson, Shamin Hotels Founder PC Amin and Construction Project Manager Devang Thaker.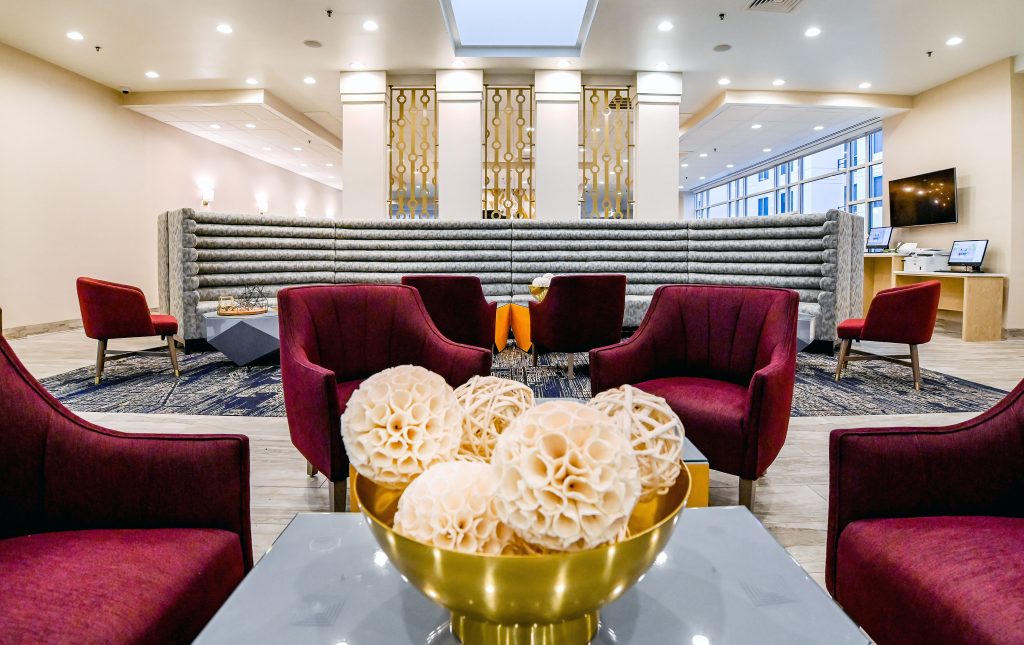 About SHERATON HOTELS
Sheraton Hotels & Resorts, "The World's Gathering Place", part of Marriott International Inc., makes it easy for guests to explore, relax and enjoy the possibilities of travel at nearly 450 hotels in over 70 countries and territories around the world. Sheraton is the most global brand within Marriott's portfolio and continues to enhance the guest experience through brand innovation, differentiating design, multi-channel marketing and a sharp focus on service.
About Shamin Hotels
Shamin Hotels located in Chester, Virginia is a dynamic, experiential hotel company that owns, operates, and develops commercial business hotels under the Hilton, Marriott, Hyatt and InterContinental Hotel Group flags. With more than 8,000 rooms and 59 hotels open and several under development across six states, Shamin Hotels is recognized as the largest hotel owner and operator across Virginia and one of the top hotel owner/operators in the country. For more information, call 804-777-9000 or visit www.shaminhotels.com.
For more information:
Julie Carlson
General Manager
P 804 226 6400
Sheraton Richmond Airport Hotel
5501 Eubank Road
Sandston, Virginia 23150
julie.carlson@shaminhotels.com
For more information on Shamin Hotels:
Craig Stechman
VP of Sales & Marketing
P 804 777 9000 x123
Shamin Hotels
craig.stechman@shaminhotels.com